ADA Chiropractic Website Compliance
If You've Received a Letter Threathening
To Sue Because Your Website is not ADA Compliant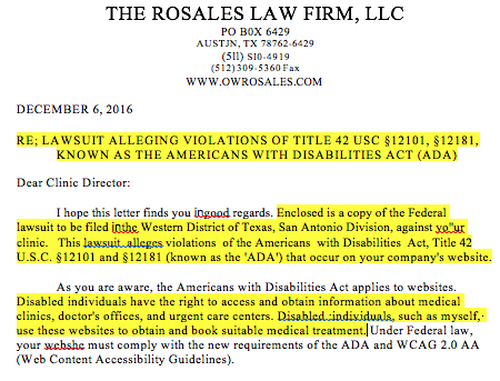 It would appear that this firm has taken a questionable attack on Austin businesses and expanded it to Chiropractic websites.
Letters have been surfacing around the country from law firms threatening civil litigation against Chiropractors, stating their websites discriminate against individuals with visual, hearing, or physical manual dexterity impairments under the Americans with Disabilities Act (ADA).
There is a section of the letter that states in one manner or another, "Our initial demand to settle with un-filed lawsuit is $[fill in the blank]." It can go from $7,000 to $2,000.
Unfortunately, many Chiropractors have, out of fear and lack of understanding, have paid these legal schemes of sort to the plaintiff's law firms. Web accessibility lawsuits and threats are only the latest exploit of the ADA, volumes of cases have been threatened and litigated over physical barriers in businesses, as seen in the video above.
The Americans with Disabilities Act
(ADA)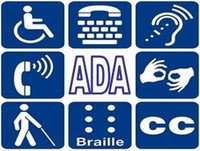 Enacted in 1990, the Americans with Disabilities Act prohibits discrimination and ensures equal opportunity for persons with disabilities in employment, State and local government services, public accommodations, commercial facilities, and transportation.
The American Disability Act is comprised of 3 parts:
• Title I: Pertains to employment and hiring. Title II
• Title II: For state and local government
• Title III: Applies to any businesses private or public that offers public accommodations. The ADA lists twelve separate categories of business, one being doctors' and dentists' offices
The suggested violations in the letters fall under the American Disability Act's Title III.
The Department of Justice has taken the position that Title III covers websites of public accommodations, although Title III does not specifically mention the Internet.
The only guidelines for websites mentioned in the entire act are located in Title II, Accessibility of State and Local Government Websites to People with Disabilities (June 2003), which refers to the Web Content Accessibility Guidelines from the World Wide Web Consortium (W3C®).
If You Are Afraid Your Website is not ADA Compliant
If you are now afraid that your websites may not be accessible, one exception does exist. According to the DOJ, your business may meet its legal obligations by providing an accessible alternative for individuals to enjoy its goods or services, such as a staffed telephone information line. The website alternative must provide an equal degree of access in terms of hours of operation and range of options and programs available, so it would have to be available 24 hours a day, seven days a week.
What Makes a Website Accessible?
The Web Content Accessibility Guidelines (WCAG 2.0) from the World Wide Web Consortium (W3C®) that the ADA references are a set of programming standards that most professional web development companies and programmers integrate into their websites. The W3C is an international community of the foremost experts in programming and web development that creates open standards and best practices to ensure the long-term growth of the Web.
These standards were developed to ensure a universal parameters for adaptive hardware and software to improve the internet browsing experience of those with impairments. Almost all of the items criteria would not be noticed by an internet user unless they were using adaptive technology. They include language that describes pictures, captions for videos and name descriptions for links, flashing items, audio that auto-plays and much more.
I could explain the coding of all of the elements in detail, but most Chiropractors, unless they are web programmers, are not going to understand the language. If your website was built by a professional who knows the best practices of W3C® and ADA Compliance, you may be fine. Unfortunately, we're not finding this to be the case.
$99 Peace of Mind From CE Cruncher
We will do a Full Reviews of your Chiropractic website
15 point accessibility check
Detailed report of errors
Explanation on how and where to correct the problems in your website (login information required if you have a Content Management System (CMS)
1 Time re-assessment to verify corrections
If you are interested, please get in touch with [email protected]