Best Chiropractic Websites
Custom Chiropractic Websites that Work
Websites for Chiropractors that Work
Since creating CECruncher.com, the largest search for Chiropractic Continuing Education, Chiropractors have begged us to build them new websites.
We hesitated with all of the companies out there creating cheap, mass-produced sites and thought Chiropractors would not understand the value of a well constructed custom website. We were wrong. Chiropractors are hiring us every day wanting a larger online presence from a website, social media, and online marketing. They also know the value: new patients. If you analyze how many new patients a sophisticated website can garner, it's easy to see the value of a CE Cruncher website.
Deciding on a new website is a big decision; as a Chiropractor your online reputation is extemely important. It can be the first introduction for a potential new patient to your practice. It should look professional, reflect your practice ideals and drive new patients to your office.

Our team of web developers, writers and Chiropractors work in tandem to create an attractive easy-to-use website. Your site will be built with Search Engine Optimization (SEO) at the forefront. This improves your ranking on Google and fosters more traffic on a more organic manner. Your site is custom-made and unique to you instead of a cookie cutter of content and pictures that resemble other DCs. All of our sites are built on a proprietary platform with tested security and continuous upgrades of web protocols and standards.
Your Website Will Include:
Chiropractic content written by Chiropractors, skilled writers and an ad agency marketing team. Tell us about your practice and we will create custom content that reflects what you need. Wellness, personal injury, decompression, weight loss, cox, upper cervical, ART can all be included, plus any other topics or techniques that are relevant to your practice. We will build a website that will attract and engage patients. Stop feeling like a personal injury Chiropractor in a wellness website or a low force DC in a HLVA site. Love treating TMJ patients? We can create a site to attract them. Don't like pediatric cases? Children will not be mentioned. Want more kids in your practice? We can add relevant content for parents. Get a website that fits your practice and drives the kind of patients you want to treat.
Features:
Editable Content by you, your staff or us – all of the content can be changed at your will. Hire a new employee or add a new service, it can be added, modified or deleted quickly.
Blog - add news, events at your practice, anecdotes or health articles
Social Media Integration - to help build your online reputation, all of your social media icons will be included on the site with Facebook share button on your blogs
Google Map Locator - make finding your office easier
Automatic Mobile Platform - be view-able and searchable on any mobile device
Email Generator - send newsletters or emails to patients, specials for birthdays and holidays
Downloadable New Patient Forms - Save time in your office with forms prefilled by the patient
Appointment Request Form - Patients can request an appointment and can receive a text response when set
5 Email Addresses- no more "YourPractice@hotmail.com." Have a professional email address "DrName at YourWebsite.com"
Pre-Written Content – Choose from over 50 pages of content unique to your site. Google devalues sites that have the same copy as other sites, lowering your ranking
Built in SEO – All pages have 10 SEO factors built in to improve your search ranking, following white hat and best practices based on Google's algorythms.
Analytics & Tracking Installed - Google Analytics and Facebook Pixels Installed to track traffic
Attorney or MD Referral Section – 3rd parties can send referrals with a quick and easy form
Video Integration – Add your Youtube video or any video file to all pages of the site
Cost to Build the site: $2,995
Start you website now with a 50% down payment
Monthly Aftercare Options:

Basic: $199
Unlimited Website support and edits
Monthly Website Statistics

Busy Practice: $399
Unlimited Website support and edits
Monthly Website Statistics
4 blog posts
4+ Facebook posts
1 patient email

Practice Builder: $549
Unlimited Website support and edits
Monthly Website Statistics
Monthly Social Statistics
4 custom blog posts a month specific to your practice
9 Custom Facebook post, 4 Google+ and 4 Tweets a month – 1,000 minimum monthly views
Reputation tracking – We will respond to all reviews and mentions to your practice and help you deal with any negative reviews
Review Generator - monthly email and office poster to generate reviews on social media (Google, Facebook, Yelp)
Social Building – Monthly tips and tricks of proven strategies to grow you social media following
Additional Features:

Practice Marketer: $250 set up $150 monthly
Monthly Marketing Campaign – Paid Advertising campaign on Facebook and Google Adwords. Custom Landing page, 2 Facebook Ads or 4 Google Ads on one topic. Results Tracking and account monitoring with a budget you determine (no % fees and you can track the spending).
All Aftercare services can be purchased individually. Call 813-746-0429 or 813-313-9377 with any questions and to explore what might be the best approach for you.

For more information and a free online marketing review of your practice contact Amy Tirpak, DC or 813-313-9377.
PRC-StudioCity.com
Just One Example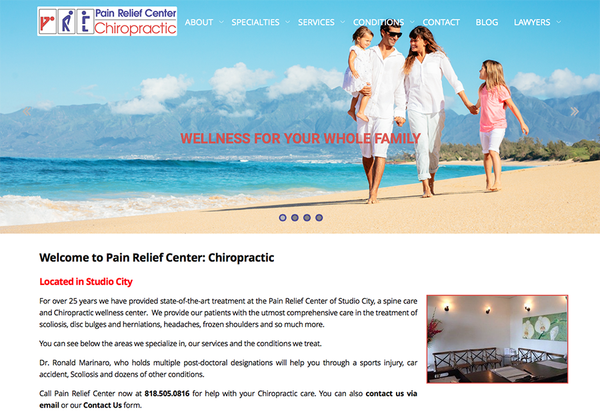 Check out PRC-StudioCity.com to see how CE Cruncher's websites flow.