SUBSCRIBE
How Are You Celebrating World Spine Day?
Poster Profile:

Name: DrTirpak
Email: Amy@cecruncher.com
Age: ????
Location: Tampa, FL
Position: Owner
Sign: Gemini
Bio:

Helping Chiropractors find some class is my job.
Experienced Chiroprctor and Internet lover, Amy Tirpak, DC, started CE Cruncher with the support of the Advertising Agency that she co-owns.



by: DrTirpak posted: September 27, 2016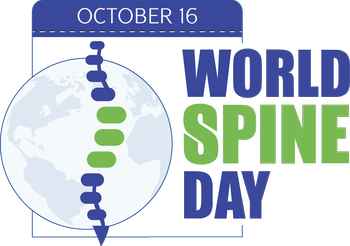 World Spine Day 2016 – "Straighten Up and Move"

October 16th, 2016 marks the fifth World Spine Day. This year's theme: Straighten Up and Move. World Spine Day is a collaborative effort from the Global Alliance for Musculoskeletal Health, World Federation of Chiropractic, and numerous other health organizations to promote awareness about spinal health. They provide education about posture, physical activity, and the impact of spine conditions on work and life while promoting a collaborative interdisciplinary approach to care.

To spread the message of World Spine Day the organization encourages health care providers and organization to coordinate an event to raise awareness. To support the efforts, they have created social media content, brochures, videos and even an app about spinal health for providers to download for free. This year's event so far include: spinal screenings, health fairs, exercise classes, yoga classes and a Spine Climb event.

The World Federation of Chiropractic https://www.wfc.org/website/ has added a cash incentive to coordinating a WSD event by hosting an annual competition open to chiropractic organizations and Chiropractors worldwide to show off their World Spine Day planned activities. Chiropractic Colleges, Chiropractic Organizations and Individual Doctors of Chiropractic can submit their project and activities for cash prizes. Dr. Richard Brown is the committee chair for World Spine Day and the Secretary-General of the World Federation of Chiropractic (WFC).

Prizes Include:

Chiropractic Associations: First prize: US$600 Runner up: US$300
Chiropractic Colleges: First prize: US$600 Runner up: US$300
Clinic/individual DC: Best entry: US$500

Entries need to be submitted by November 15, 2016 to Sarah Villarba at svillarba@wfc.org . Winners will be featured in the December issue of the WFC Quarterly World Report.

The project also encourages individuals to talk about their own experiences with spinal conditions by using the hashtag #MyBackStory
Check out the funny video for World Spine Day written, directed and starring their Global Coordinator Dr. Robyn Brown